TWC's Third Annual Gifts for Writers Compilation
It's that time of year again, when all our thoughts turn to gift-giving. If you have a writer in your life, The Writers Circle has some suggestions that celebrate that special avocation and make your writer feel cherished!
Writers love reading, of course (Why else would they be writers?) Penguin has come up with a unique idea – one hundred Penguin book covers in a box of postcards. A great way for one writer to stay in touch with another!
And since we love reading, a good set of bookmarks – particularly those featuring favorite authors – will surely come in handy! These Author Bookmarks are available on Etsy.
Or, you might consider help dealing with the inevitable writer's block. The Writer Emergency Pack contains idea cards, detail cards, and more, to get us back to work!
Writers love words, and what better to showcase that love than the game of Scrabble ? This Scrabble Dish Towel is just one of several gifts that feature this much loved brain-challenging game. There's also a Scrabble Mug and Scrabble refrigerator magnets.
If you haven't heard of Lithograph Art from Books, you have been missing one of the most imaginative uses of book text to come along. Lithograph will take the text of much loved works of literature and put them on, well, almost anything –  scarfs, t-shirts, posters, totes, gifts and even tattoos. Think of Pride and Prejudice or The Great Gatsby on a tee-shirt. Or Sherlock Holmes or The Princess Bride on a tote-bag. Or the full text of one of Shakespeare's plays as an inspirational poster for your favorite writer's study!
These days, a lot of writing takes place on a computer or electronic device. We really appreciate this compilation of writerly tools – everything from applications to keep us motivated to correcting our grammar! And if you are considering an electronic tool for your favorite writer, you might check out the Mod Notebook that allows you to write longhand in a paper notebook, then syncs to the cloud when you're ready!
Writers have to sit for long periods of time, and that can be hard on the extremities. Believe us, the writer in your life will be grateful for something to keep their feet warm like these Dr. Scholl's Rejuvenating Foot Warmer!
And don't forget our hands – which grow cold very easily as we move across the keyboard or hold a pen! This collection of Fingerless gloves gives you several different styles (and prices) to choose from – including some seasonally appropriate options!
Of course, writers like to wear their art as well as make it. Here are two possibilities, both available on Etsy – the Keep Calm and Write On Pendant…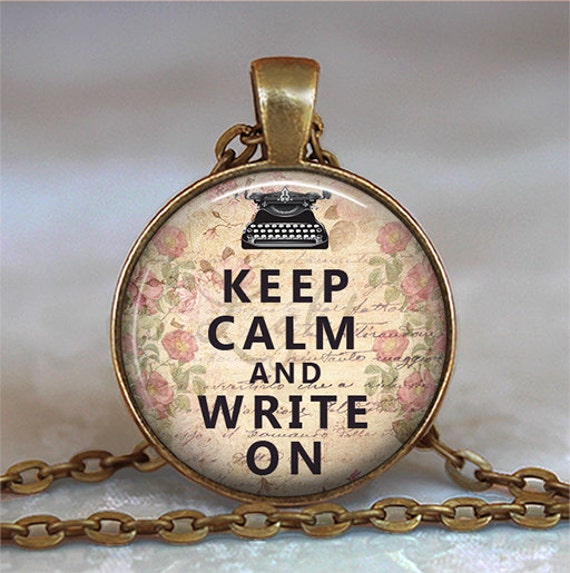 … and the Chapter One…The End Earrings, to help us focus on writing the entire book!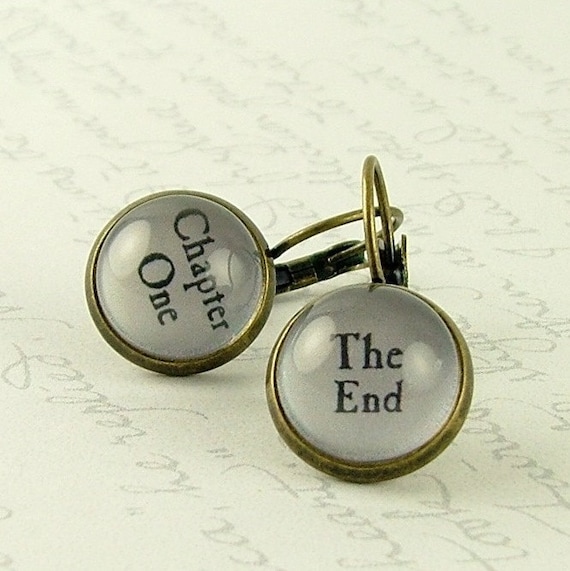 This year, The Writers Circle went local with our own holiday gift giving, finding some beautiful notebooks made by paper artist, Pia, who made them especially for our instructors. You can contact Pia via her website or visit her at MONDO Summit.
And speaking of MONDO, don't forget to visit the Booktique on the third floor which features a carefully curated selection of great books, including many specifically dedicated to the craft of writing.
If you want your gift to make a difference for writers around the country and the world, consider making a donation in your favorite writer's name to PEN America or The Authors Guild.  Both organizations fight for authors' rights, whether it's freedom of speech in nations around the world or fair contracts and copyright protections at home.
Finally, writers always appreciate those precious intangibles – time to write, or a class in which they can focus on their craft. Consider signing your favorite writer up for TWC's Resolve to Write workshop, taking place in early January in three locations – South Orange, Summit, and Montclair. Or give them the gift of a TWC workshop. We have a multitude of genres to choose from and something for every writer from Grade 2 on through adult. Our winter session is online. What better way to tell the writer in your life that you support them?
Wishing everyone a happy holiday season with plenty of time to write!